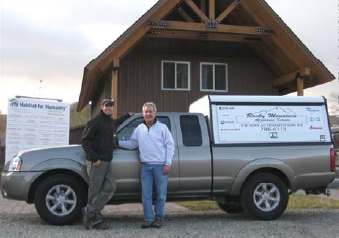 Rocky Mountain Appliance Service is located in the beautiful Wood River Valley of Central Idaho.  This is one of the most scenic and popular mountain resort areas in the Pacific Northwest and includes the towns of Sun Valley, Ketchum, and Hailey.  Joe Yelda founded the valley's first successful appliance repair business 37 years ago, and has been dedicated solely to Whirlpool branded appliances the entire time.
Joe moved from California to Idaho in 1971, after graduating from Hollywood High and San Diego State University, where he earned a degree in teaching.  Much earlier, Joe had been a "baby actor," appearing in movies (along with his twin sister) such as "Three God Fathers," with John Wayne.  He and his sister both appeared as the actual baby they were fussing over in the movie.
Years later, upon arrival in Idaho as an adult, Joe recognized the need for qualified appliance technicians and chose this as his "real" career.  In addition to appliance repair, he pursues many other hobbies and interests including marathon running, skiing, backpacking, snowshoeing, and Ham Radio WX7XX.  Joe currently serves as Public Information Officer for Amateur Radio and teaches evening classes at the College of Southern Idaho.
His son, Paul, whom he taught to repair appliances as a teenager, recently joined Joe in the business.  Paul is also an accomplished chef and holds a culinary degree from Western Culinary Institute.  His interests include whitewater rafting, snowboarding, backpacking, rock climbing, and travel.  Paul has traveled to 18 different countries in the last four years.  Joe says he and his son are a great team and the best part is that he "can now find the time to do some traveling myself."  Joe and Paul try to spend time each year traveling internationally.
Joe and Paul support a number of community projects including Advocates Against Domestic Violence, which maintains a shelter in the area.  Joe says his part is easy—he simply waits until one of his customers is replacing older appliances and he will ask them to donate these used appliances to the shelter.  He and Paul will recondition as needed, and install them at the shelter.  Recently, volunteers completed the first Habitat for Humanity home in the area.  A Blaine County deputy sheriff with six kids is the happy new owner.  He had been commuting 110 miles to work, one way, due to the high cost of housing in the Wood Valley.  Joe and Paul donated their time and materials to install Whirlpool appliances in the Habitat Home.  Joe says, "We have to give back to the community when we can."
We at Whirlpool Corporation take this opportunity to recognize the contributions that Independent Servicers like Joe and Paul have made to our success, and to thank them for the services they provide to the community.

-Bill Dillard, Field Service Representative

Reprinted from Service Matters, December 2008 Edition, Whirlpool Corporation